If creativity, innovation, and open conversations are elements of an organization's purported culture, the placement of engaging artwork can help substantiate these values and make them visually available.
Art, like nature, is significant in its ability to transport the viewer to a different mental plane.
Our custom wall art will add personality to your walls. Whether you are looking to greet new clients, inspire your employees, or promote your brand, let our high-quality canvas prints and framed prints tell your brand story on the walls.
We work with our corporate clients as well as interior designers to provide a time-saving and comprehensive fine art that will elevate your space and blend with your choice of office furniture, and achieve a cohesive look.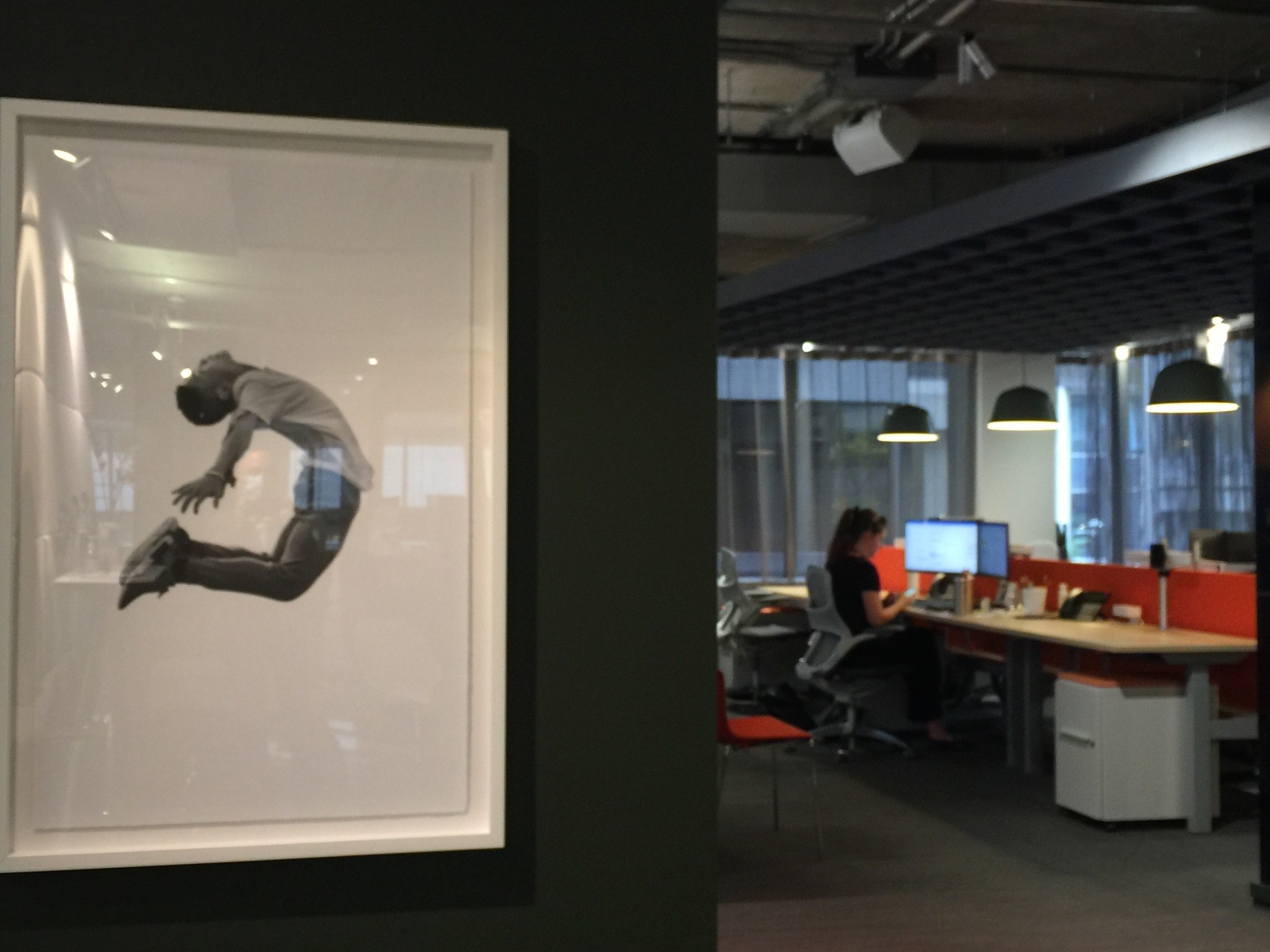 Displaying art in the workplace can elevate employee performance, mood, and physical well-being, as well as bolster interpersonal bonds between employees and clients. Dozens of research studies conducted in the United States and Europe throughout the past 10 years have identified myriad ways — from the practical to the unconscious — that installing thoughtfully-chosen art in the workplace can improve employee experience and achievement, and help to communicate the right message to guests. In this brief guide, experts from Plastarc summarize the many positive effects certain kinds of art can bring to employees and visitors, and share ideas about how to choose the best art for the workplace.

Art as a tool for wayfinding, culture, and employee ownership
Workplaces can often feel like a maze of desks, hallways, and doors. Because our brains hold onto memorable environmental features, art can usefully function as a landmark, helping people traveling through a space to remember where they've been. It can also come in handy when providing directions.
Amidst many options for addressing branding and company culture in the workplace, art can help communicate key brand messages in a non-verbal way. For example, an organization that displays unusual artwork is likely to be seen as conducting business in less traditional ways or marketing less conventional products; art that seems based in multiple ethnic traditions can signal multicultural management practices; and art depicting well-known and high-prestige locations, can indicate a history of working with powerful allies.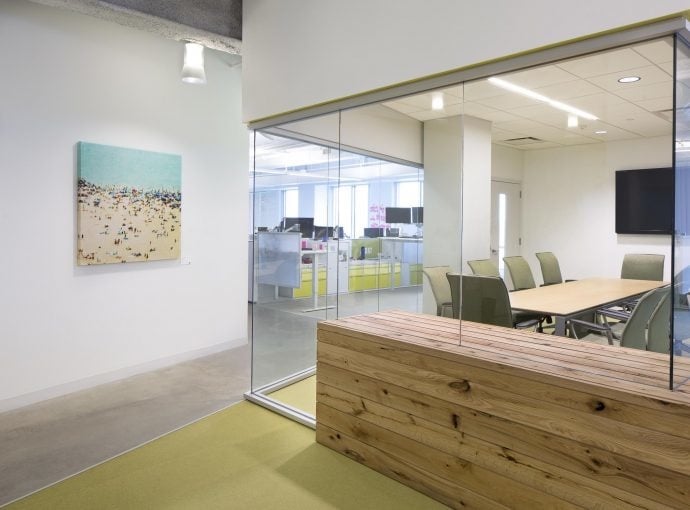 By this same token, if the art in place illustrates issues of common concern and collective identity — such as environmentally-responsible behavior or pediatric health — it can support a feeling of unity, whether among employees or between an organization and its clients. Additionally, while work environments can sometimes feel like universes unto themselves, art in the workplace can serve as an outlet for highlighting local culture and community, creating a bridge between the workplace and its surroundings.
Successful corporate collections often feature local artists and demonstrate direct reference to the proximate cultural milieu.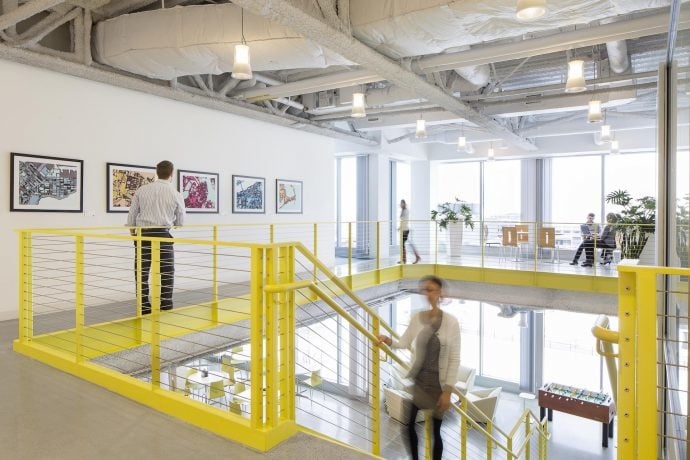 For organizations hoping to give employees a sense of agency in their workplace environments, allowing workers to choose and position their own art can supply them a feeling of control, which has been linked to enhanced professional performance at the individual, group, and organizational levels. Participatory murals take this a step further, allowing employees to interact with the art post-installation and on their own terms.
In general, employees show the most attention to detail, process and manage information best, and show the highest levels of organizational citizenship when their workplaces both display art and have allowed input into its selection and placement.
Art's role in employee stress, health, and performance
Akin to its proven rehabilitative influence in hospitals, art in the workplace has also been shown to benefit employee well-being and performance. This is significant, as the office can easily become a place of stress and tension, and people become cognitively exhausted after prolonged periods of highly-focused work.
Viewing artwork, particularly realistic nature scenes, helps workers restore mental energy and reduce stress. Unsurprisingly, both of these effects boost brain performance. Seeing nature images in artwork has also been linked to lower levels of anger in workplaces. One in four American workers report feeling chronically angry, which has been linked to negative outcomes such as retaliatory behavior, interpersonal aggression, poor work performance, absenteeism, and increased turnover.
People who work in environments decorated with aesthetically-engaging art typically experience less stress and anger in response to task-related frustration, and thus help to build a more collaborative and enjoyable workplace.
The art you choose should make you feel good about the space you work in. You can pick art that's motivating, inspiring, and uplifting — you'll see that it will positively affect productivity and focus.
In order to achieve a cohesive look, you can complete the wall art with the interior design of your office space. In general, offices have simple and clean interiors, which give you plenty of creative freedom when personalizing your own space. Keeping in mind the design aesthetic of offices can spark inspiration and comfort.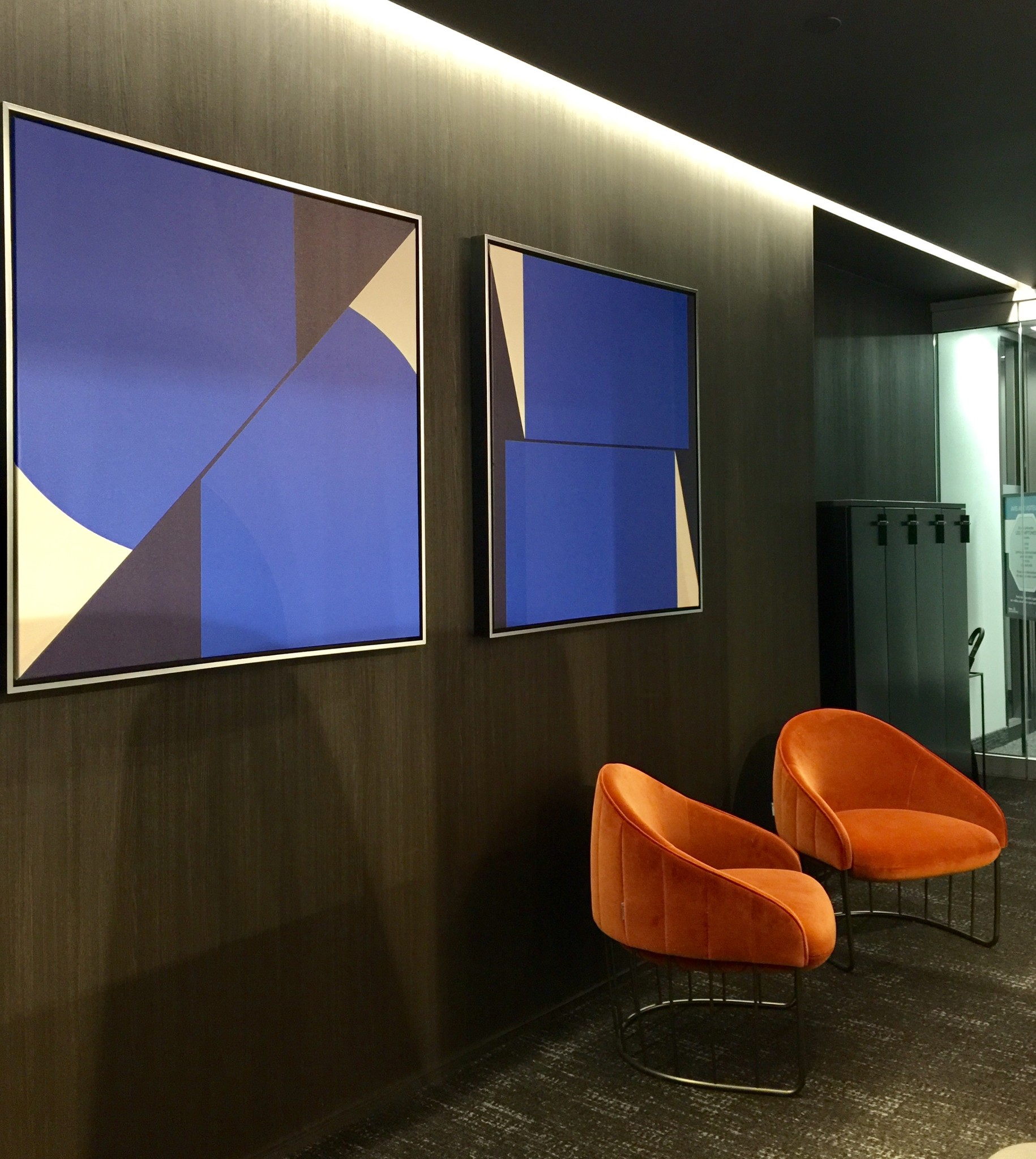 Modern interior design is one of the most commonly used styles in office spaces. It evolved in the early to mid 20th century and is characterized by its metal, glass, and chrome surfaces and features. Modern office decor is kept minimal and focuses mainly on art. Similar to the modern office design, contemporary offices are characterized by their simplicity, although this style has softer features. Ideal decor elements for contemporary spaces are large, framed wall art, floated archival papers, facemount acrylics or metallic framed art prints.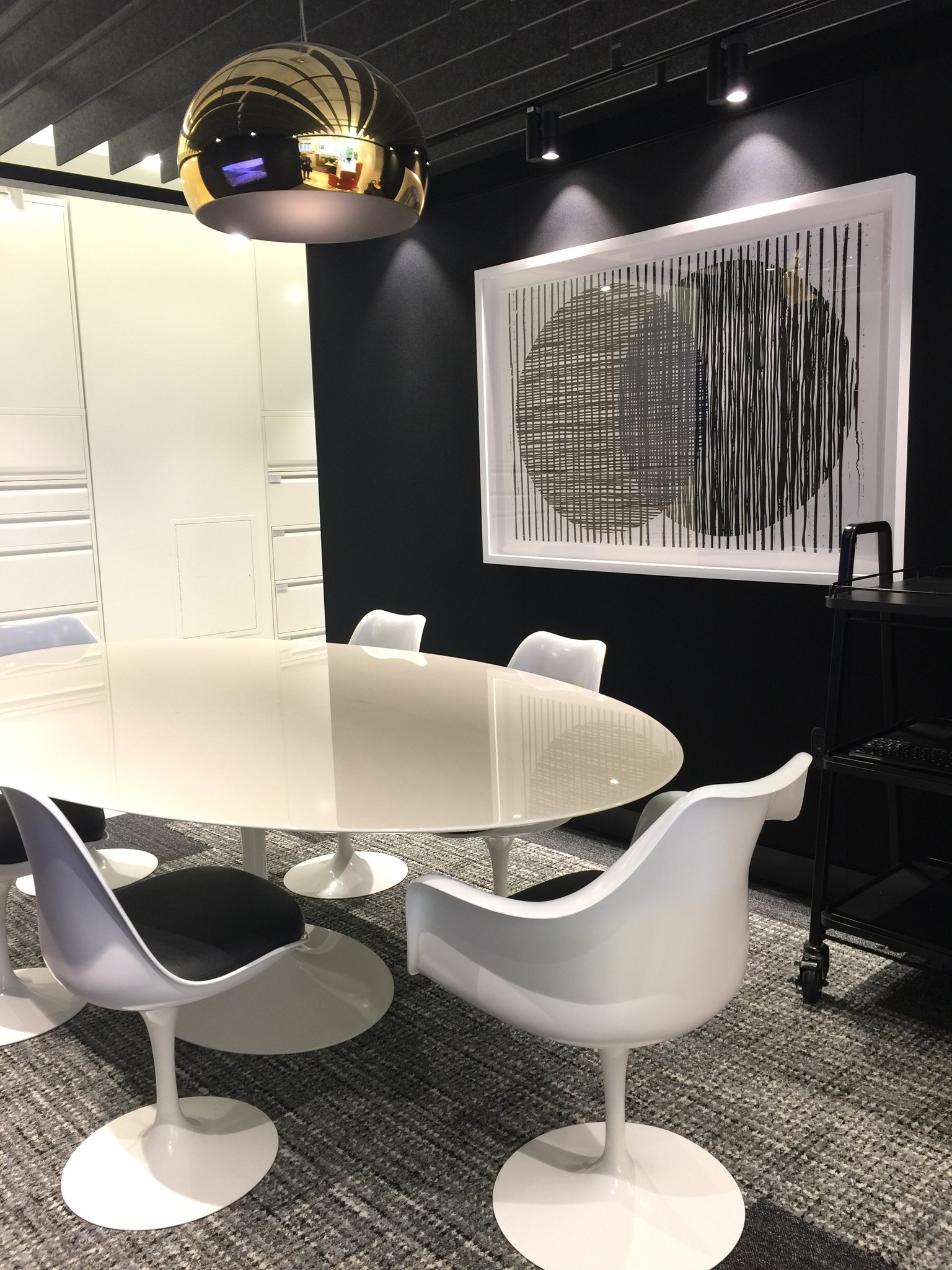 A larger space allows for more elaborate decoration. Hanging a large panoramic print of your favorite skyline or landscape instantly adds charm and serenity to a space.
Thoughtfully decorated offices can have a positive impact on your motivation and overall mood. Comfortable furniture, plenty of light, a few touches of green, and room to add personalized wall decor are key elements in creating a work environment that you don't mind spending all day in. 
Regardless of interior design style, taste, and office size, there is always a little room for personalized home office decor. Here are some of our favorite office decor resources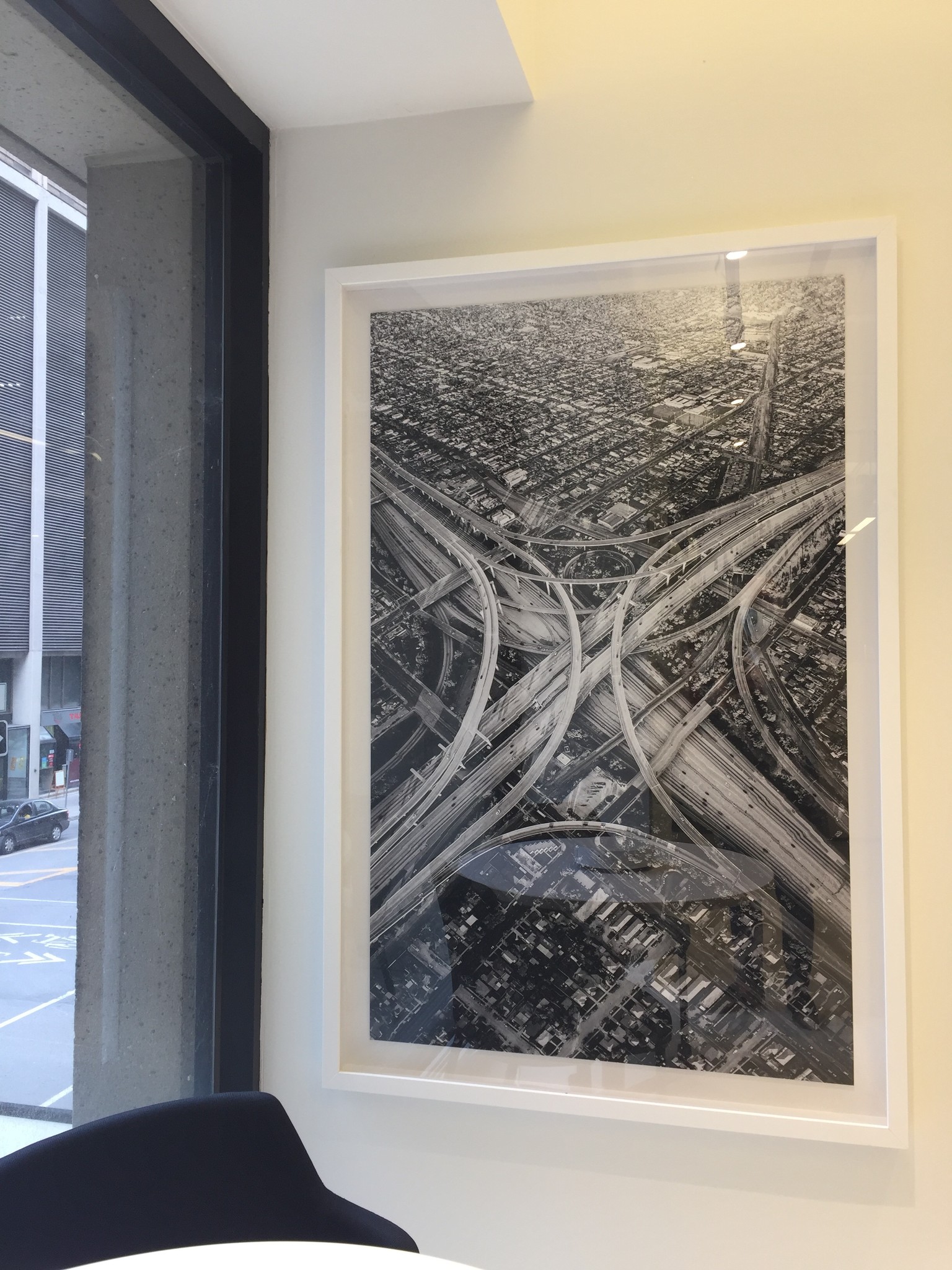 THE WORKSPACE AFTER COVID
The physical office is here to stay. Office culture will remain an integral part of the employee experience for most companies in the future after COVID. It will focus on what is truly essential. Shared offices, online conference platforms, and digital presentations, are going to be hot commodities.
Offices will undoubtedly transform in the near and distant future. Heads-down work will happen at home and the physical workplace becomes a place to connect with others, leading to increased social space, amenities, and conference rooms.
Designers will specify materials that are non-porous, easy to clean, and reduce the likelihood of infection. Both home and physical workplace will become more similar in the way they look. One thing we can count on: There will be a lot of innovation in our industry as a result.