Casual Living Staff, September 14, 2018
We thank Casual Living Magazine for their wonderful article of our weatherproof Outdoor Metal Prints. Read The actual article:
HANGING OUT
THE PICTURALIST KNOWS HOW TO HANG ART OUTSIDE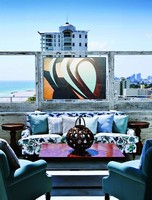 NOTHING COMPLEMENTS ANY ROOM, indoor or out, better than a beautiful piece of art. With the ability to bring color and a visual aesthetic to exterior spaces, one major innovator is capturing the big picture outdoors—The Picturalist could become a force in exterior décor.
Founded by Roy Caro-Cohen, president/CEO and design curator, The Picturalist is an online artwork company that curates an image bank. Their library includes everything from antique Etruscan engravings to contemporary abstract prints and photography, featuring hand-picked, globally sourced artists noted for their original vision and unique character.
Casual Living spoke with Caro-Cohen about his company and his passion for bringing art to the outdoors.
CL: What subjects are most popular for outdoor wall art?
CARO-COHEN: Popularity and subjects really depend on application and type of design. We noticed that subjects that blend well with the outdoor settings are definitely more popular.
These include nature and specifically inspiring images of flowers or coastal and marine photography, as well as abstract and minimal art. Clients generally look for images that are relaxing and inspiring and celebrate beauty.
CL: What is the typical life expectancy of outdoor wall art?
CARO-COHEN: UV printing is very durable especially on metal; a coat of sealing is applied for maximum durability. Life expectancy varies on where the art piece is located, whether it is covered from direct sunlight or not. It's also subject to color. Reds can fade more quickly than other colors if exposed to direct sun rays.
CL: What is the construction or process that artwork must undergo for long outdoor life?
CARO-COHEN: Our outdoor collection is constructed with rust-proof materials like aluminum, mildew-proof backings and resin-based frames that can withstand the test of natural elements. UV inks are used, and then sealed with a special coating to fix colors to the substrate and assure a longer life.
CL: Where is the optimum location for hanging outdoor wall art?
CARO-COHEN: The best location is always based on the design of the outdoor space. Interior design dictates its positioning considering the focal point of the space. Other than that, the optimal location would be away from direct sun exposure.
CL: Who are popular artists for exterior art?
CARO-COHEN: Popularity is primarily linked to the subject of the artwork. We noticed subjects like clouds, coastlines and aerial photography of beaches are very popular.
Abstract modernism is probably one of the favorite choices right now by artists like Alejandro Franseschini from the U.S. or Pedro Alonso Miranda from Spain. In the figurative side, French artist Camille Delor is loved for her simple one-lined portraits in black and white.
CL: How do you select artists or art styles?
CARO-COHEN: We curate artwork based on research done on the Internet via our Instagram account and requests from our website. Our second filter is based on what interior designers in lifestyle publications like Galerie Magazine, Architectural Digest, Elle Decor or Domino, are using in their projects internationally.
CL: Would you have an estimate of the size in annual sales of the outdoor art category?
CARO-COHEN: I would say that this segment represents about 10% of the overall spending on patio and outdoor furniture sales figures and growing.
See more choices of Outdoor Metal Prints here.
Please note any of our featured artwork can be printed on Outdoor Metal format.
When you've completed a design for a client, you need art and you need it yesterday. The Picturalist has that covered.
Interior designers and showrooms can choose from hundreds of contemporary images specifying the perfect frame to accent their clients style. In today's instagramable world, The Picturalist delivers quickly to his followers. We know interior design projects need the perfect artwork to complete the look, so The Picturalist guarantees delivery within a week. Browse our website and add images to your decor ideas.


Roy Caro Cohen
Founder, The Picturalist