As 2018 ends and we head into a new year, we would like to share some trends we think will be prevalent in 2019. Find artwork that you love and use that piece as the inspiration and work around its color palette.
As designers, it becomes a part of your nature to observe the world around you and think of it in terms of the basic elements of design: space, line, forms, light, color, texture, and pattern. From visiting newly opened hotels, buildings, and art exhibits to reading fashion magazines like W or interior design icons such as Veranda, AD, Domino, Milieu and Elle Decor you find ways to stay current with what the evolution of the design world has to offer. They show what is popular and help us understand what elements make the most impact.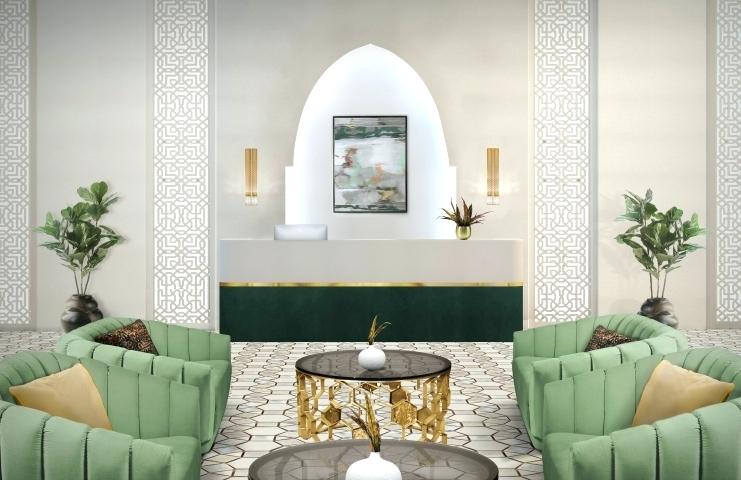 Your first step is to pick out two or three hues in wall art that you'd like to incorporate into your decor as the dominant colors, then add a few additional colors that you'd like to pull out as accents.
While it's tempting to design based on what is currently on trend, it's just as important that you stare deeply into your crystal ball and you evaluate the longevity of these trends, ultimately delivering a timeless product to your clients that can be refreshed eventually by incorporating new accents.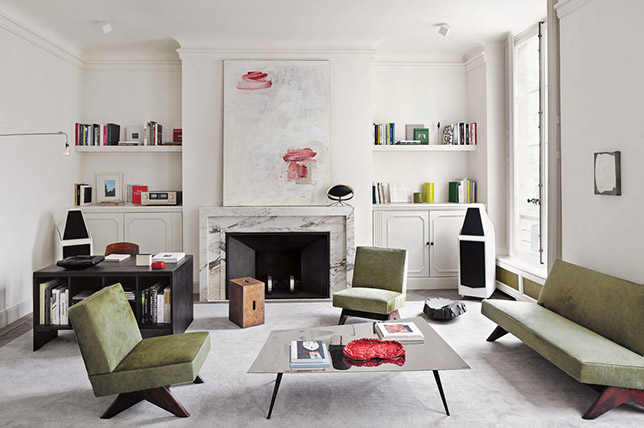 When planning interior design, it is best to think of the house as a totality; a series of spaces linked together by halls and stairways. It is appropriate that a common style and theme runs throughout and you consider colors and art direction in this equation. Color schemes are a great way to unify a collection of spaces. For example, you might choose three or four colors and use them in varying shades throughout.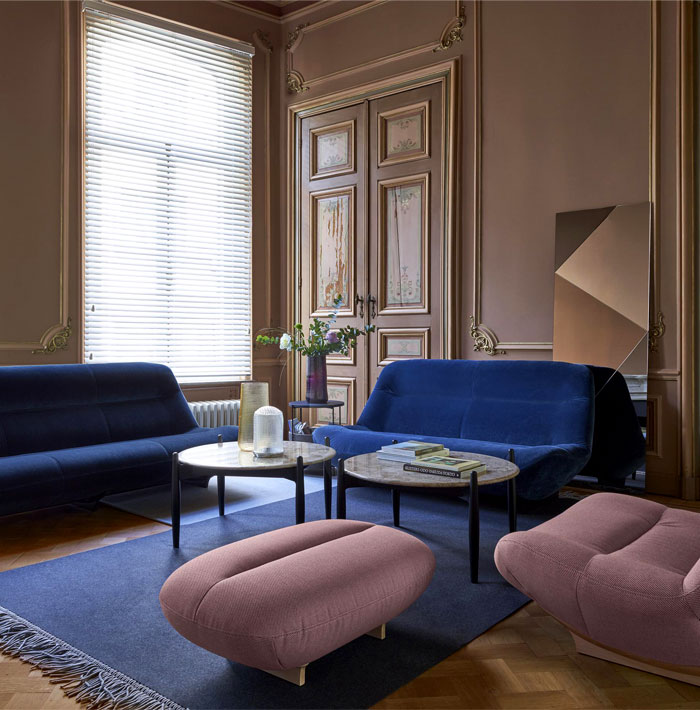 Incorporating the right art into a home is one of the most effective ways to elevate the quality of your design and your clients everyday life, while making a significant aesthetic difference for the better.
Artwork in a room must never be an afterthought – it can be a part of the project from the beginning. Pushing it to the side during the design process, can make you lose an incredible opportunity to create focal points.
FOCAL POINTS
Imagine artwork hanging on the sides of the mantle of a fireplace or standing proudly above the two bedside tables in your master suite. Alternatively, a collected gallery wall can create a point of interest in a library or home office. An oversized triptych can add great impact in a family room.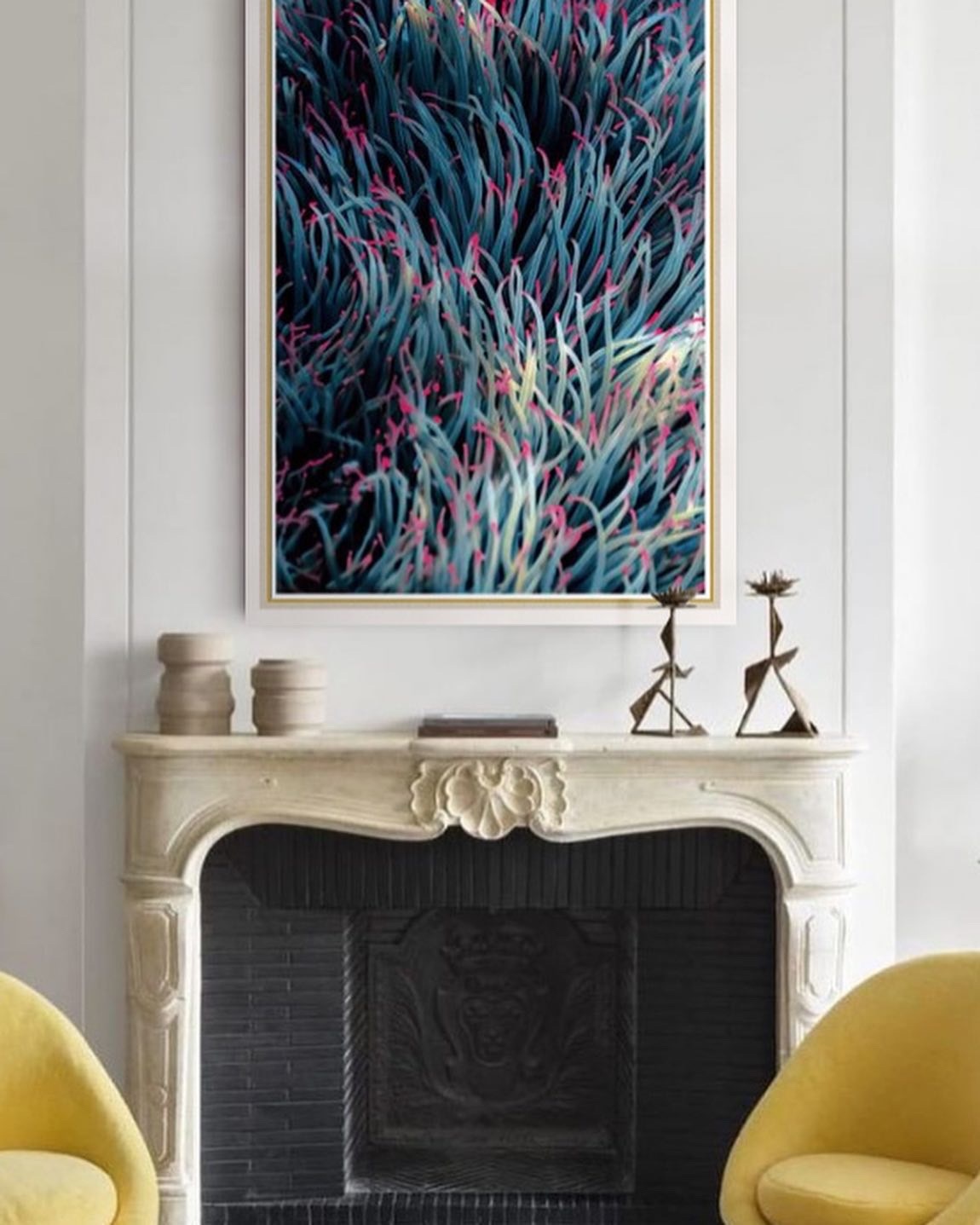 When choosing a piece of wall art to be a focal point for your space, the most important consideration is size. An artwork that is too small will be diminished by the surrounding furniture and a piece that is too big will look out of proportion, unless it is made on purpose, like in the image below.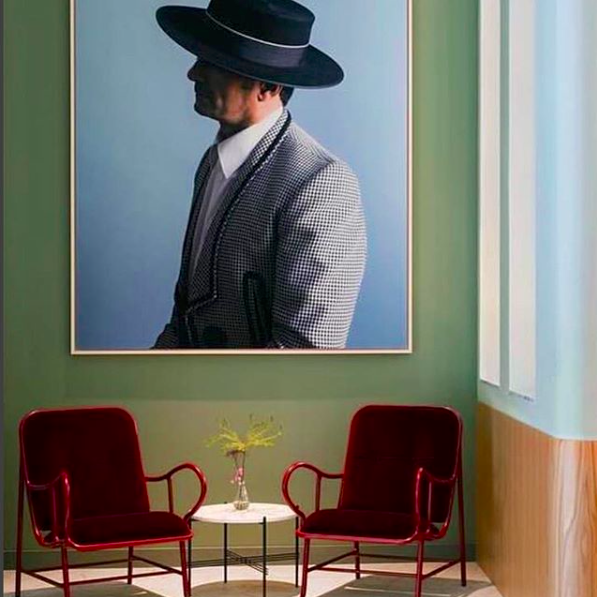 Hotel Torre Madrid by Jaime Hayon
Make sure to measure the wall space available, so you know how much room you have to use. Alternatively, in more minimalistic environments, leaving a blank space on a wall can complement and mirror or enhance the artwork. By creating a negative space, the blank wall acts as a second piece of art.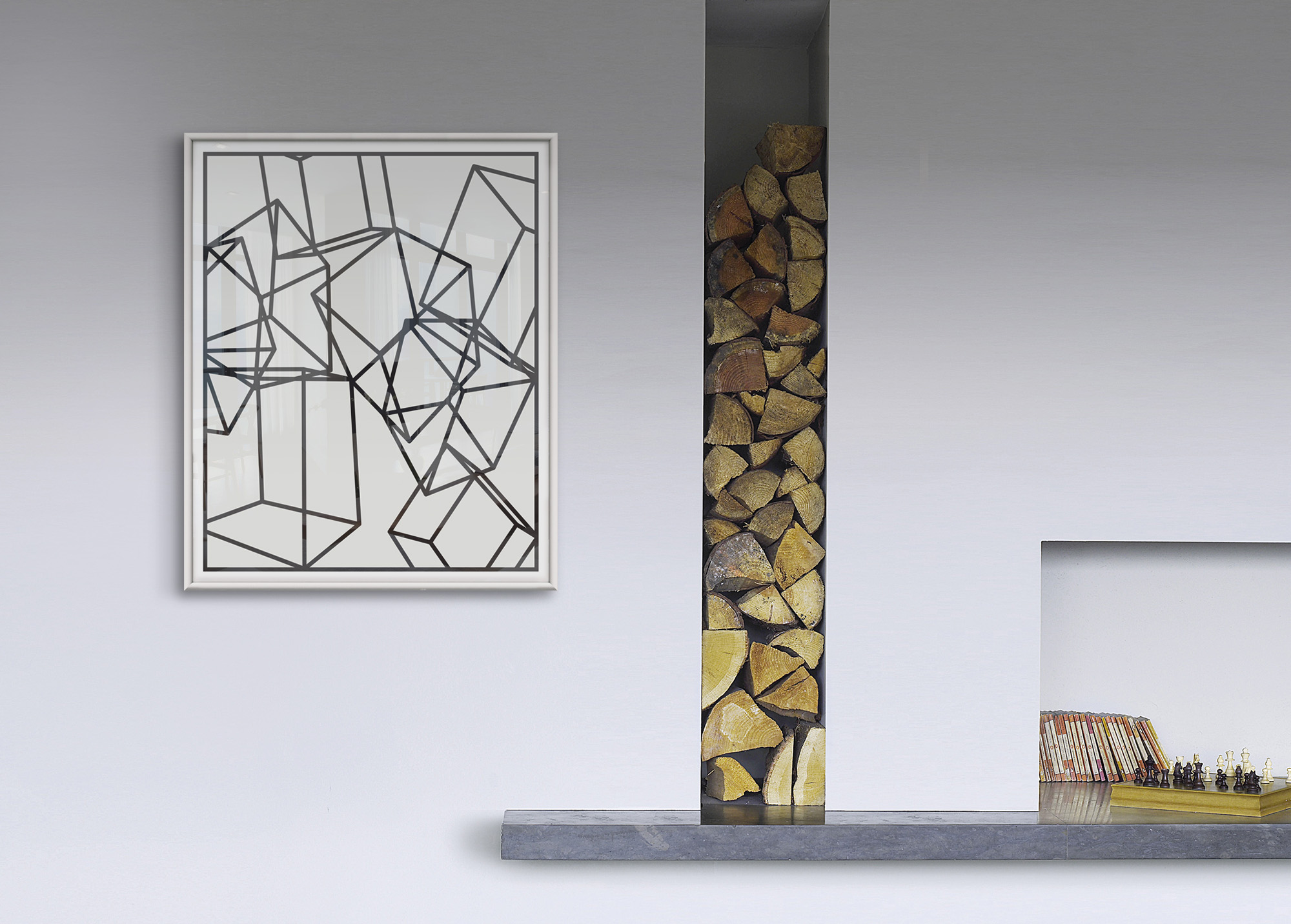 THE TRENDS FOR 2019
MONOCHROME
Popularized by the fashion world, looks being composed entirely of a single color strutting down the runways for the Spring 2019 season. The colors ranged anywhere from neon to neutral, enhanced by playing with shade and textures of the same color. This season, we started to see the same concept translated into interiors.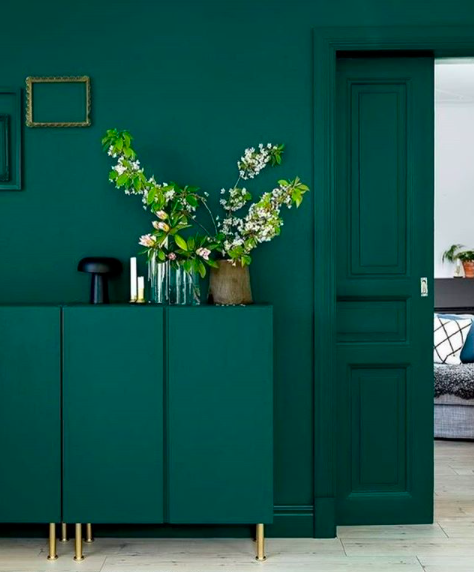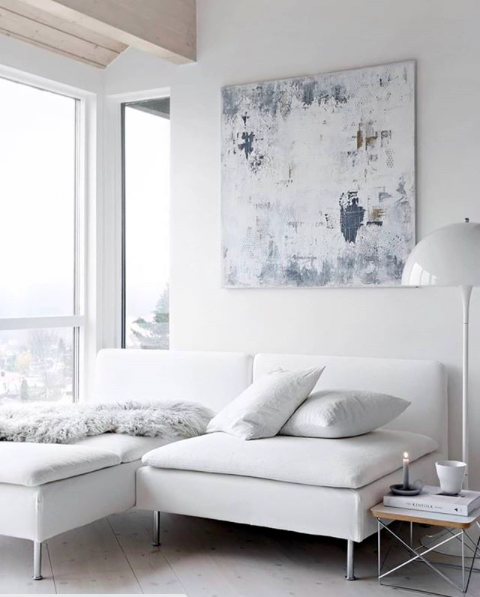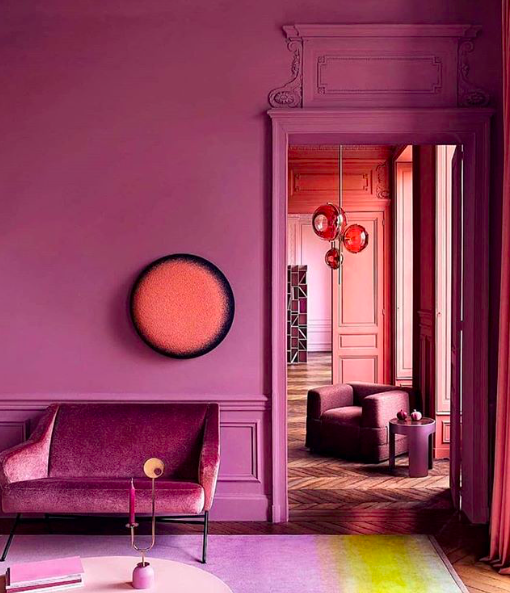 A living room in shades of ivory where the vibrancy of the design is in the textural variation of the materials. A bathroom of pink where every item, from the sink to the countertop, wall color and even toilet are the exact same shade of pink. A blue room where even the stools and curtains mimic the same color tone of the walls.
It's impressive because of the spot-on color matching, and lets the eye appreciate the form of the furniture pieces, as a sculpture in the space. While it may sound quirky, there is something sophisticated about isolating a color palette and having the interest come from variations in materials and textures. 
COLORED
If an all blue room isn't your thing, this trend can also be effective in an entirely neutral palette. This could be a simple all white room or the color we are predicting will have its best year in 2019; brown.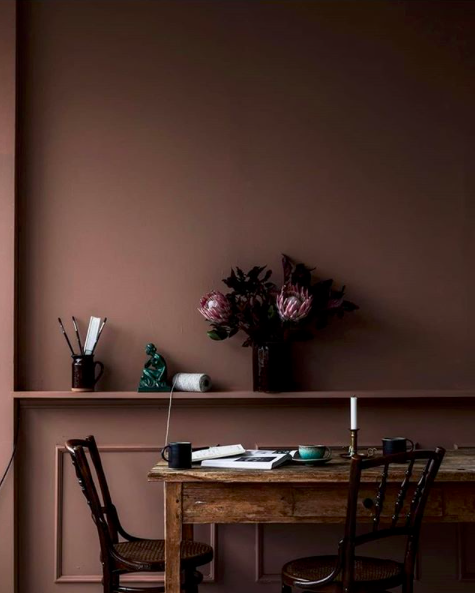 Spaces of entire neutral palettes are starting to appear in a array of ways, and we are welcome them. There is a beauty and simplicity with this that is inviting and grounding. We anticipate seeing this trend carried out in an variety of styles and applications this coming year.
ROMANCING THE STONE
Bye Carrara marble, step aside and take a back seat with the rest of the play-it-safe stones. We are seeing more and more specialty stones being used in dramatic ways that highlight their pattern as a showpiece within a design. This trend uses the less common and more veined stones that were previously avoided for being "too busy". On your next trip to your usual stone cutter, you might find a new favorite sign stone and you might use it to color blend with your furnishings.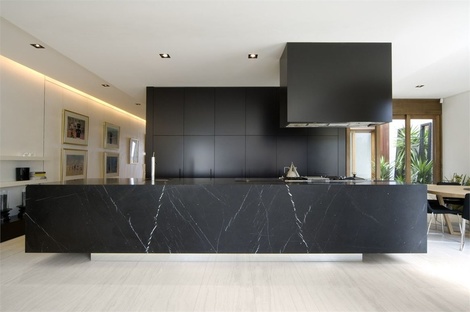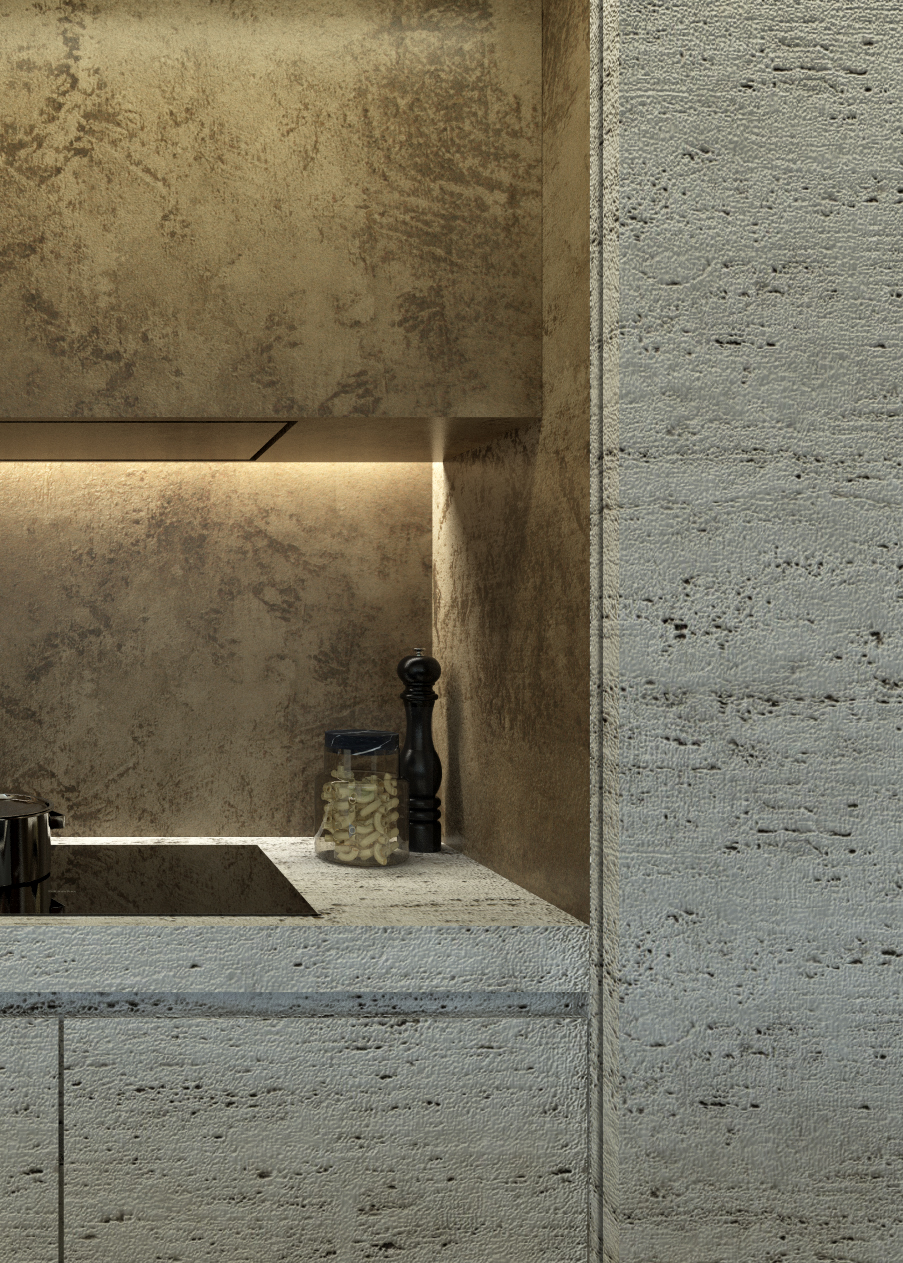 Project RR by Vandervelpen Architects

ANTIQUES & TRADITIONAL TOUCHES
In 2019, we will certainly see the return of classic antique furniture and traditional touches in interiors. For a long time antiques have always had a strong place within a traditional design style. We are now seeing them used again in combination with more modern, paired-down designs which results in unique and more comforting space.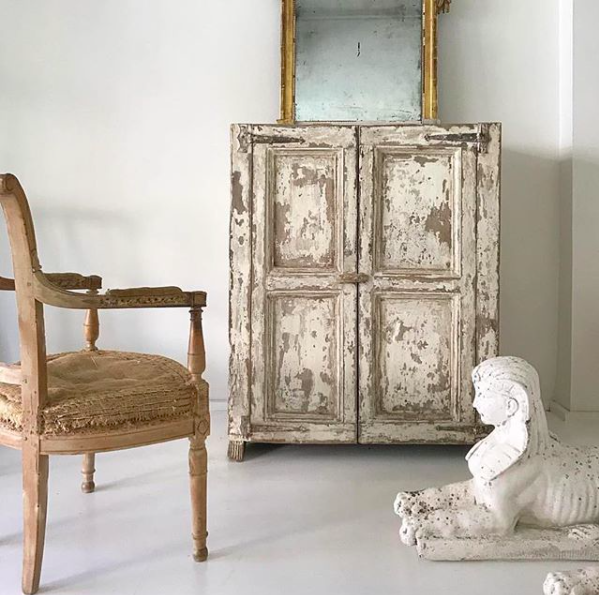 Via Juan Moline
As we have all seen with some extreme contemporary designs, the lack of decoration can leave the home feeling soulless. We love how the addition of antiques such as busts or neoclassical architectural elements, add depth to designs that contemporary spaces can't achieve alone.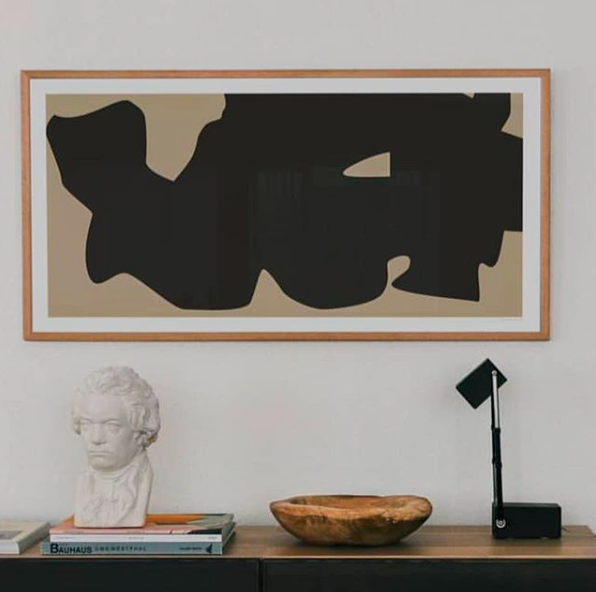 As Charlotte Moss once said, ''There are two things that make a room timeless: a sense of history and a piece of the future''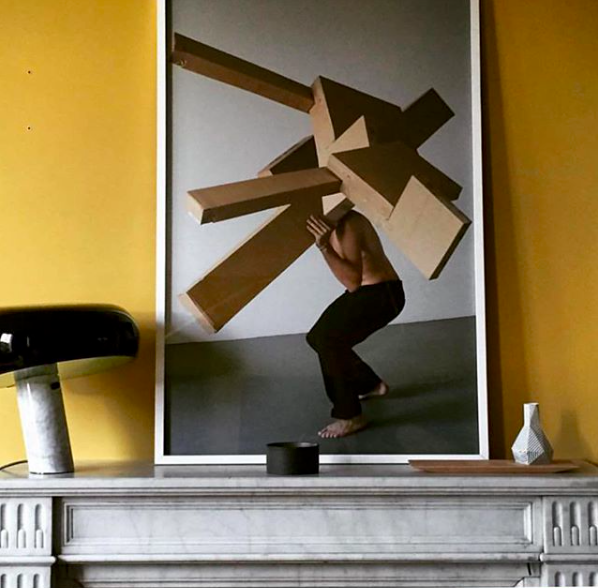 These antiques can also be the striking modern shapes from the 1950's-1970's as used by Jean-Louis Deniot in his projects.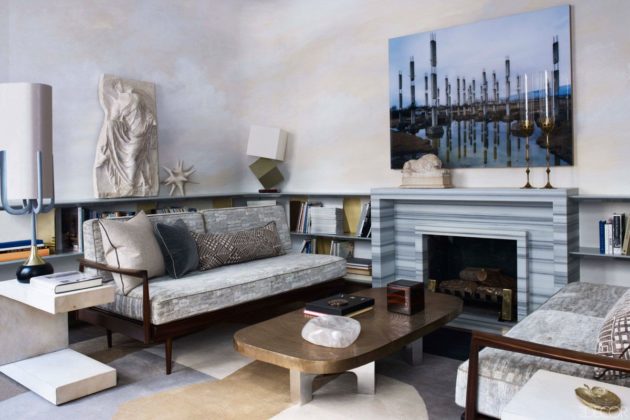 Good antique pieces are works of art and sit like a sculpture in a room adding to the overall experience.
Adding very contemporary pieces of art can deliver Charlotte's 'future' effect.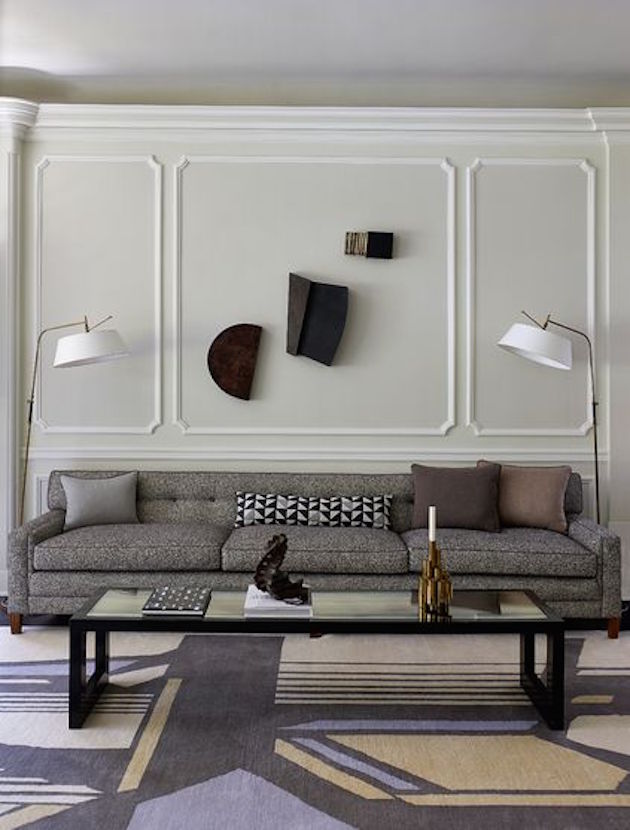 Expect more traditional mouldings, classic furniture pieces and antique prints to make a strong return in the new year, mixing up the modern, clean-lined designs we have seen in recent years.
Bring on the mix.
Thank you for reading, I hope this provides you with some exciting inspiration.

Roy Caro Cohen
Founder, The Picturalist
Incorporating art into your home is one of the most effective ways to elevate the quality of your everyday life and make a significant difference for the better.


Incorporating art into your home is one of the most effective ways to elevate the quality of your everyday life and make a significant difference for the better.